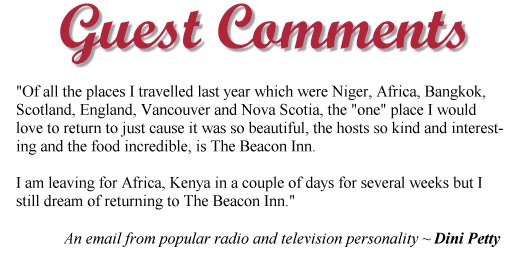 From authors who have slipped between our covers

From our Guest Book, comment cards, emails or their autographed books in our lounge...

John Grain - Flylines & Fishtales
"Hi Denise. Just a note to say how much we enjoyed our stay with you. We had a wonderful weekend and very much enjoyed the hospitality, the food and the lovely Inn. We will tell our friends and hope to come back again soon."

David E White - Lost in the Song
"Denise, thank you so much for your warm hospitality. I hope that you will find inspiration in these pages"

Patrick Watson - The Canadians
"To the Beacon Inn, with thanks for a lovely stay"

Alistair MacLeod - Island
"For the Beacon Inn: Thank you for your gracious hospitality"

Barbara Coloroso - The bully, the bullied and the bystander and Parenting Wit & Wisdom
"Graham, a heartfelt thank you"

Fred Stenson - Lightening
"For the Beacon Inn, where I was so comfortable and well treated it's remarkable you could get me to leave. Thanks"

Rudy Wiebe - A Discovery of Strangers
"For the Beacon Inn - peace - "

Michael Dibdin - And Then You Die
"To Graham Bell with many thanks for a relaxing visit"

Caroline Adderson - Sitting Practice
"To the Beacon Inn, with thanks for the wonderful hospitality"

Lynn Coady - Saints of Big Harbour
"With all good wishes to the Beacon Inn"

Sean Johnston - A Day Does Not Go By
"Thanks for a great stay. It's a very nice Inn"

Russell Thornton - The Fifth Window
"For the wonderful people at the Beacon Inn - thanks for your hospitality and friendliness!!"

Karen X. Tulchinsky - The Five Books of Moses Lapinsky
"Thanks for your hospitality"


From Emails and our Guest Book
"I and my wife had a great time in Sidney. On our whole 2-week trip, your establishment was the most gracious, elegant and comfortable. We hope to visit again next year."

"Thank you for taking such good care of me. I left feeling rested and nurtured."

"We've travelled (business & pleasure) quite a bit, stayed in hotels & B&Bs in all price ranges & I thought your establishment was one of the nicest, most comfortable we've ever stayed in. We'll be back!"

"What a lovely small hotel."

"Once in a blue moon, a holiday exceeds expectations. ...this was one of those rare occasions!"

"This is as close as I can feel to being at home when I am traveling."

"We have been home for a week now and still thinking of our wonderful vacation and enjoying all the photos. We want to thank both of you and your staff for helping make this one of our very best vacations. One we will never forget and hope to redo in the future. Just wish you were not so far from Florida so we could visit more often. We have already recommended your Inn to many. We knew when we booked The Beacon Inn it would be a wonderful experience but found it to be much more then expected. Not only is your Inn beautiful, located in a perfect community, room & bed extremely comfortable, the breakfasts and service could not have been better! You really did spoil us, and we loved it!!! It could not have been nicer, thanks to all of you. Now if <my husband> would only learn how to make the same wonderful breakfasts for us, I would have it made."

"You made us fall in love again." (Wow!)

"So grand! So smashingly elegant. What a find!"

"My husband and I have been around the world three times and I can say with certainty this is the finest B & B we have visited. Thank you for your fine service."

"Gracious hospitality, elegant room and lovely breakfast."

"Calm, restful, elegant, warm and friendly. The bed was the most comfy."

"Great stay, great food, great time. A real luxury. We'll be back."

"Great time. Beautiful place and friendly staff."

"Lovely ambiance and great featherbeds, breakfast and conversation. Many thanks."

"Defines elegant at a new and wonderful level. Excellent hospitality."

"Wonderful sense of elegance and serenity."

"Thanks so much for your warm hospitality. Beautiful place to stay!"

"Thank you so much for a lovely visit. Our room was a wonderful haven and the decor exceptional. The breakfasts were great -- we especially enjoyed the croissants. Your warm hospitality and friendliness will certainly guarantee a return visit."

Home page

Our Inn

Our Guest Rooms & Rates

Our Breakfasts

Packages

Gift Certificates

Getting Here


Secure Reservations
& Availabilty


Beacon Inn at Sidney
9724 Third Street
Sidney by the Sea, British Columbia Canada V8L 3A2
Phone: 250-655-3288
Toll Free: 1-877-420-5499
Daily 8 a.m. to 8 p.m. (Pacific Time)
E-mail:
E-mail: